Datum: 28.09.2022 Uhrzeit: 14:00 - 19:00 Ort: Halle 60, Aachen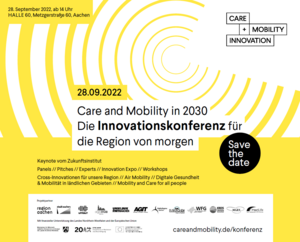 Care and Mobility Innovation - In Zukunft gut versorgt und intelligent mobil
Was haben wir erreicht? Wo wollen wir hin? Was brauchen wir für unsere Region?
Wir laden Sie herzlich zur Innovationskonferenz 2022 in unserem Projekt Care and Mobility Innovation ein!
Diskutieren Sie mit uns über die Zukunft der digitalen Gesundheitswirtschaft und intelligenten Mobilität! Denn nur so können wir unsere Zukunft aktiv mitgestalten und weiter vorantreiben.
Wir erwarten spannende Impulse und Diskussionen, u. a. zu folgenden Themen:
Cross-Innovationen für unsere Region: Welche Potenziale sollten wir nutzen? Welche Branchen können die Gesundheit und Mobilität von morgen positiv beeinflussen?
Stärkung der Gesundheitsversorgung und Mobilität für vulnerable Gruppen: Was brauchen wir?
Ländlicher Raum: Welche Projekte müssen umgesetzt werden, um Versorgung und Mobilität in ländlichen Gebieten zu verbessern?
Urban Air Mobility: Wie können Städte und Gemeinden die künftigen Entwicklungen aktiv mitgestalten und den Gesetzgebungsprozess positiv beeinflussen?
User centered design: Wie erhöhen wir die Nutzerakzeptanz digitaler Anwendungen?
Mehr Infos unter careandmobility.de/konferenz/
Die Veranstaltung findet im Rahmen des Projektes "Care and Mobility Innovation – In Zukunft gut versorgt und intelligent mobil" statt, das mit Mitteln des Landes Nordrhein-Westfalen und des Europäischen Fonds für Regionale Entwicklung (EFRE) gefördert wird.