The ongoing digitalisation increasingly influences all areas of life and poses great challenges, especially for companies. From Industry 4.0, the intelligent networking of production, logistics and customers and the associated digitalisation of entire business models, it offers numerous opportunities.
We support the digitalisation process in the Aachen region. To this end we cooperate with regional initiatives and experts.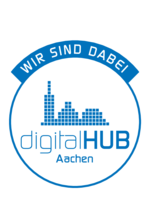 As a user and supporter we are member of the digitalHUB Aachen and actively support the association's work within the focus group Aachen region. The focus group has set itself the goal of shaping the transfer of topics to the Aachen region and thus promoting the regional digitalisation process.
Together with the members of the focus group, we have also initiated the digitalPIONEER award, which was awarded for the first time in 2019 to six companies from the Aachen region.
As a regional platform, digitalHUB Aachen e. V. brings together digital users from industry and business (users), start-ups and medium-sized IT companies (enablers) as well as region players and science (supporters) in order to work together on supplementing and developing digital business model
Within the framework of the project "Care and Mobility Innovation - In the future well supplied and intelligently mobile" 12 project partners and 20 practice partners are developing, among other things, a strategy to bring solutions of digital medicine and medical technology into standard care.
How do we want to live in the future? Well supplied and intelligently mobile at the innovation location Aachen region!
Our project partners are: Region Aachen, City of Aachen, RWTH Aachen University, digitalHUB Aachen, e.GO Mobile AG, District of Düren, WFG Kreis Heinsberg, District of Euskirchen, StädteRegion Aachen, MedLife e. V., MA&T Sell und Partner GmbH.
The project has just started and will run until the end of 2022, with financial support from the State of NRW and the European Union.
Contact person:
Dipl.-Betriebswirtin Gaby Mahr-Urfels
Phone: +49 241 963-1035
email: g.mahr-urfelsagit.de
The challenges that a digital transformation brings with it in the context of Industry 4.0 are very diverse, especially for small and medium-sized enterprises (SMEs). Therefore the event series "Digital. Practical. Close." intends to provide companies with theoretical and practical tips.
This year again, each event will have a thematic focus. Specific problems of digital transformation processes along the value chain of SMEs will be dealt with. In addition, current initiatives and funding opportunities for Industry 4.0 projects in SMEs as well as regional support offers will be presented.
Upcoming events
Digital entrepreneur breakfast "Automation in research and practice"
On June 19, 2020 from 8.15 to 10.15 a.m. our first online event on "Automation in Research and Practice" will take place in cooperation with "Digital in NRW". Among other things, you can take a look at the Smart Automation Lab of the WZL on the Melaten Campus in Aachen and the development at the Heinen Automation company in Monschau during live tours.
The detailed programme and further information can be found here (in German) >>
The event will be held in German. Please register via the following link: www.digital-in-nrw.de/webinar-automatisierung
Further dates will be announced shortly.
Contact person:
Dipl.-Betriebswirtin Gaby Mahr-Urfels
Phone: +49 241 963-1035
email: g.mahr-urfelsagit.de