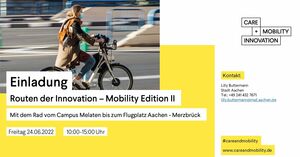 Im Rahmen des Projekts "Care and Mobility Innovation" geht es am 24. Juni 2022 hinraus in die Region! Bei der ersten Route der Innovation in Präsenz freuen wir uns darauf, mit Ihnen spannende Innovationen in Stadt und StädteRegion Aachen zu erkunden. Die "Route" nehmen wir an diesem Tag wortwörtlich und unternehmen eine erlebnisreiche E-Bike / Bus-Tour.
Wir starten um 10 Uhr auf dem RWTH Aachen Campus Melaten bei der Metropolitan Cities MC GmbH, die nachhaltige und innovative Mobilitätskonzepte entwickelt und Konzepte für digitale Gebäude und Quartiere erarbeitet. Eine Besichtigung der Demonstrationsfabrik mit der dort entwickelten Smart Building Plattform ist ebenfalls vorgesehen. Per E-Bikes fahren wir im Anschluss zum Flugplatz Aachen-Merzbrück, wo wir mehr über den Innovationsstandort und dessen Zukunft erfahren inklusive einer Führung durch Tower und Hangar. Die Rückfahrt zum Campus Melaten erfolgt per Bus mit einer exklusiven Sonderfahrt der ASEAG. Ankunft in Aachen ist um 15 Uhr geplant.
Interesse? Programm und Anmeldelink >>
Care and Mobility Innovation - mit finanzieller Unterstützung des Landes NRW und der Europäischen Union.