Gleich drei neue Gründerunternehmen fanden Anfang 2020 im
Gründerzentrum der AGIT MBH
auf dem
Campus Melaten
geeignete Räumlichkeiten, um ihre Firmengründungen in die Tat umzusetzen. Wir begrüßen daher ganz herzlich:
cygenia GmbH
Entwicklung verschiedener epigenetischer Untersuchungsverfahren für Forschungszwecke. Epigenetik ist ein neues Forschungsgebiet mit großem diagnostischen Potential.
Implantatpathologie Benita Hermanns-Sachweh
Pathologische Untersuchungen von Gewebsreaktionen und Veränderungen am Implantat im Rahmen von Implantatentwicklungen.
Luxactly Yours - Cosmetics with Spirit
Herstellung von Naturkosmetik und Körperpflegemitteln auf Grundlage einer ganzheitlichen Betrachtung des menschlichen Individuums.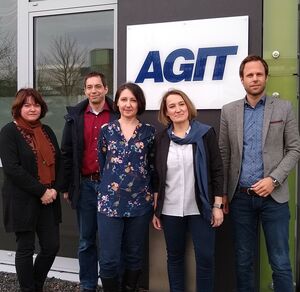 (Foto: AGIT v. l. n. r.) Carmen Angelmann (AGIT), Prof. Wolfgang Wagner (Cygenia GmbH), Dr. Monika Konarzycka-Bessler (Luxactly Yours - Cosmetics with Spirit), Prof. Benita Hermanns-Sachweh (Implantatpathologie), Sven Pennings (AGIT).