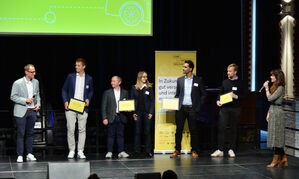 Foto: © Region Aachen Zweckverband, Andreas Schmitter
Die Gewinner der ersten Bewerbungsphase der "Innovationspartnerschaften" in unserem Projekt "Care and Mobility Innovation" wurden auf der Innovationskonferenz Ende September gekürt.
Gleich vier Initiativen haben die Jury überzeugen können. Lösungs- und umsetzungsorientierte Projekte mit einem hohen Neuheitsgrad haben die Nasen vorn. Mit den folgenden Projekten kommen wir dem Ziel: "Zukünftig gut versorgt und intelligent mobil am Innovationsstandort Region Aachen" ein großes Stück weiter:
"Park4Care - Kurzzeitparken für Dienstleister im Gesundheitswesen
Initiator: Informationsmanagement im Maschinenbau (IMA) der RWTH Aachen University und Partner*innen
"Entwicklung und Erprobung eines Serviceroboters zur Unterstützung von Mitarbeitenden der Stadtreinigung Aachen"
Initiator: MOKI Robotics GmbH und Partner*innen
"Reha der Zukunft"
Initiator: Institut für Textiltechnik der RWTH Aachen University (ITA) und Partner*innen
"Tele-Hausbesuche in der Apotheke"
Initiator: Docs in Clouds GmbH und Partner*innen
Die Sieger können sich u. a, über methodisch gestützte Workshops in einem Wert von 15.500 Euro freuen. Darüber hinaus nehmen die Initiativen automatisch am Wettbewerb: "Beste Innovationspartnerschaft" mit Preisgeld teil.
Die nächste Bewerbungsphase läuft!
Interessenten können ihre Ideen bis zum 9. Januar 2022 einreichen.
Alle Infos unter: https://careandmobility.de/innovationen/innovationspartnerschaften/
Das Projekt "Care and Mobility Innovation – In Zukunft gut versorgt und intelligent mobil" wird mit Mitteln des Landes Nordrhein-Westfalen und des Europäischen Fonds für Regionale Entwicklung (EFRE) gefördert.