Die Teilnahme an der
Online-Umfrage
zum
Thema digitale Gesundheitswirtschaft und Mobilität
ist noch
bis zum 31. Oktober
möglich
>> hier geht's zur Umfrage
.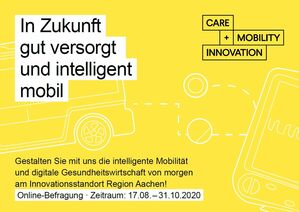 Nachfolgend noch weitere Infos zum Projekt "
Care and Mobility Innovation"
auf einen Blick:
>>
Offizielle Überreichung des Zuwendungsbescheids
im Gesamtvolumen von rund 2,5 Millionen Euro durch Christoph Dammermann, Staatssekretär im NRW-Wirtschaftsministerium an Prof. Christiane Vaeßen, Geschäftsführerin der Region Aachen - stellvertretend für das Projektkonsortium.
>>
Presse-Artikel zum Projekt in der Aachener Zeitung
.
>>
Die Region Aachen sucht eine(n)
Projektmanager(in) im Bereich "Wirtschafts- und Strukturentwicklung"
für das Projekt "Care and Mobility Innovation".