Datum: 25.05.2023 Uhrzeit: 13:00 - 18:00 Ort: Zentrum für Bio- und Medizintechnik (ZBMT) - 3. Etage, Campus Melaten, Pauwelsstr. 17, 52074 Aachen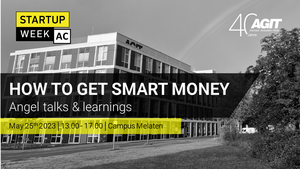 Im Rahmen der diesjährigen STARTUP WEEK AACHEN bieten wir Interessierten die Möglichkeit, von erfolreichen Start-ups zu lernen, persönlich mit Business Angels in Kontakt zu treten und zu erfahren, wie man sich potenziellen Finanzierungspartnern optimal präsentiert.
Bei Snacks und Getränken besteht die Möglichkeit zum Austausch mit allen Teilnehmenden und Vortragenden und zur Beratung. Außerdem können Sie an einem Wissensspiel des Patent- und Normenzentrums (PNZ) - RWTH Aachen University teilnehmen, bei dem man Gutscheine für IP-Forschung gewinnen kann.
________________________________________________________________________________
PROGRAMM
13.00 Welcome & Intro
Sven Pennings, CEO AGIT mbH
13.15 Moderated by Helga Hermanns:
"Send me an angel" – Talking about success factors and decisive turning points in the early stage
Start-ups: Cylib GmbH, Trailer Dynamics GmbH, Voltfang GmbH, GmbH
Business Angels / Investors: Michael Boshammer, CABOA Partners, Michael Ludwig, Dr. Antonio Mesquida Küsters, Tech-Dilligence GmbH, Keith Sauvant
14.30 Business Angels on stage & discussion
Dr. Jan Schlipf
Dr. Johannes Triebs, Earlybird Venture Capital
Reginald Vossen, CEO Business Angels Network BAN Flanders (Belgium)
15.00 Break
15.15 Moderated by Florian Deutz, AGIT mbH:
An "aix-high-t-ing" hightech-enterprise as a best practice - Lessons learned
Martin Riebe, CEO Incoretex GmbH
15.45 How to prepare a convincing pitch
Silke Beaucamp, Consultant for High-Tech-Enterprises
16.30 Get together with snacks & drinks
18.00 End
________________________________________________________________________________
Meldet euch schon jetzt online an: ANMELDUNG >>
Wir freuen uns auf euch!
Wann:
25. Mai 2023 - 13.00 bis 17.00 Uhr
Wo:
Zentrum für Bio- und Medizintechnik (ZBMT) - 3. Etage, Campus Melaten, Pauwelsstr. 17, 52074 Aachen
Ansprechpartnerin
Havva Coskun-Dogan
Tel. +49 (0)241 475773-27
h.coskun-doganagit.de