Datum: 30.03.2023 Uhrzeit: 16:00 - 18:00 Ort: IHK Aachen, Theaterstr. 6-10, 52062 Aachen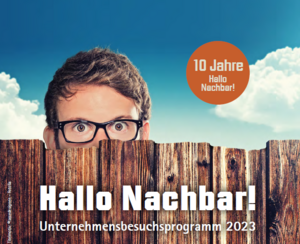 Titelmotiv: ©lassedesignen – Fotolia
SAVE THE DATE!
Das Besuchsprogramm "Hallo Nachbar" ermöglicht spannende Einblicke in innovative Unternehmen der Region Aachen und bietet ausreichend Gelegenheit zum Austausch und zum Netzwerken.
Seit dem Start der Reihe 2014 haben fast 900 Fach- und Führungskräfte über 40 Unternehmen vor Ort in der Region Aachen besucht.
Diese 10 erfolgreichen Jahre "Hallo Nachbar!" feiern wir mit einem "Meet and Greet":
Donnerstag, 30.03.2023
16:00 – 18:00 Uhr
Meet and Greet – IHK Aachen
Nähere Informationen folgen in Kürze!
Anmeldung
Die Anmeldung erfolgt verbindlich unter: www.aachen.ihk.de/hallonachbar