Datum: 20.08.2022 Uhrzeit: 16:00 - 19:30 Ort: Flugplatz Aachen-Merzbrück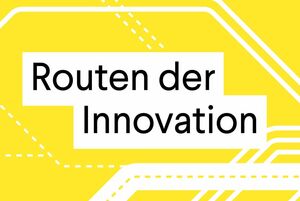 Am 20. August geht es mit Care and Mobility Innovation zum Flugplatz Aachen-Merzbrück!
Wir konnten den renommierten Aachener Künstler Tim Berresheim für unser Projekt begeistern. Bei der Route der Innovation "Tim Berresheim Himmelszeichnerei mit Rauch und Flieger in den Himmel gemalt" können Sie sich mit der Hilfe von Kunst, Augmented Reality und Flugwesen mit den Schnittstellen von Analog- und Digitalität auseinandersetzen.
Tim Berresheim arbeitet unter Einbeziehung des Publikums mit der Städt. Kath. Grundschule Am Römerhof, der Westflug Flight Training GmbH & Co. KG und dem Flugplatz Aachen-Merzbrück GmbH zusammen.
Wir bieten Ihnen ein buntes Fest der Innovationen für die ganze Familie!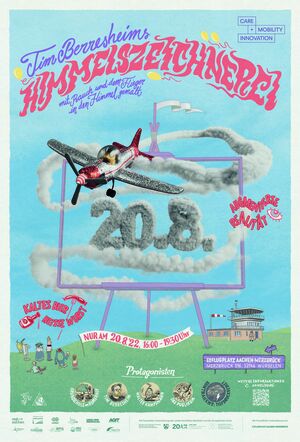 Seien Sie gespannt und melden Sie sich schon jetzt an (die Teilnehmendenzahl ist limitiert).
Programm und Anmeldelink hier >>
Die Veranstaltung findet im Rahmen des Projektes "Care and Mobility Innovation – In Zukunft gut versorgt und intelligent mobil" statt, das mit Mitteln des Landes Nordrhein-Westfalen und des Europäischen Fonds für Regionale Entwicklung (EFRE) gefördert wird.